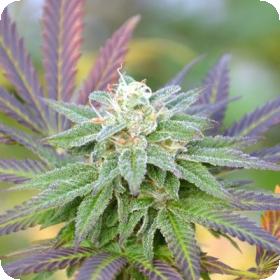 Frisco Snaps Regular Seeds
This strain by Norstar Genetics is a cross between Forum Girl Scout Cookies and Frisco OG, this is definitely a strain for those with a sweet tooth.
The flavours and scents are absolutely exquisite and perfect for those who want a little desert strain to go with a nice dinner. This strain also gives amazing yields of dense, resinous buds and is the ideal strain for those who like something that goes above and beyond in the flavour department.
Frisco Snaps is a regular strain and will grow into a roughly even split of male and female plants. This makes them great for breeding since the breeder gets plenty of choice when it comes to selecting parent plants for the next crop.
If the mother and father are the very best of the lot then they will pass on their excellent genes to their seeds, raising the quality of the whole crop.
This is also a great time to remove any weak traits from the plants. Regular seeds are also photo period and will require a light cycle in order to flower.
This strain can be grown indoors or outdoors and needs 9 weeks to flower.
Remember that the cultivation of cannabis seeds is illegal in some countries, please check the laws of your country before attempting to cultivate cannabis seeds.
Genetics:
Forum Girl Scout Cookies x Frisco OG