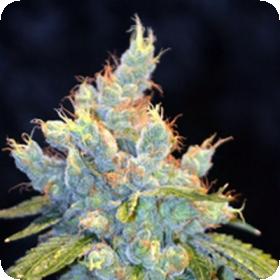 This strain is a combination of Hell's Angels OG Kush and Dickhead OG. As one should expect from a good OG strain Frisco is amazing for dealing with nausea and cramps. The scent and the flavour are absolutely delicious, a mix of sugar and citrus with a spicy kick.
The plant produces a huge amount of terpenes and is sure to impress even the pickiest of connoisseurs.
Frisco OG is a regular strain, which means that it will grow into both male and female plants. It also means that it is photo period and will require a light cycle in order to flower.
Many breeders and old school growers value regular seeds for their stability and reliability. Breeders generally prefer to use them because they have a roughly even split of males and females, which makes selecting parent plants an easier process.
Choosing the very best two plants ensures that the next seeds will be of a higher level of quality than the previous crop. It also means that they can remove any undesirable traits that were present in the previous plants.
This strain needs 10 weeks to flower and can be grown indoors or outdoors.
Remember that the cultivation of cannabis seeds is illegal in some countries, please check the laws of your country before attempting to cultivate cannabis seeds.
 
Genetics:
Hell's Angels OG Kush x Deadhead OG