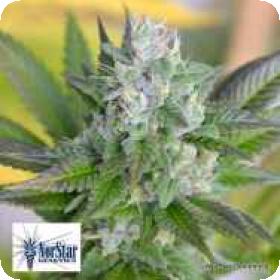 Columbian Thunder Funk Regular Seeds
Columbian Thunder Funk is a combination between Alaskan Thunder Funk and Santa Marta Columbian Gold. This strain is great for sativa lovers and those who live something a little more potent. This strain has a fantastic bodily effect whilst still allowing the mind to remain clear and functioning.
C.T.F produces large, dense buds that are sticky with resin. Everything about this strain is powerful and potent, including the scent and the flavour.
This is a regular strain, which means it will grow into half male and half female plants. It will also require a light cycle in order to flower. Most breeders prefer to use regular plants because of their stability and mix of genders.
Since the split is roughly even the breeder has plenty of choice when it comes time to select the parents of the next crop. They can choose only the very best two plants to produce the next seeds, improving future crops and removing any genetic issues. Some growers also prefer to use regular seeds. They are often used in attempts to reintroduce cannabis into the wild.
This strain will grow well indoors or outdoors and needs about 9 weeks to flower.
Remember that the cultivation of cannabis seeds is illegal in some countries, please check the laws of your country before attempting to cultivate cannabis seeds.
Genetics:
A.T.F x Santa Marta Colombian Gold