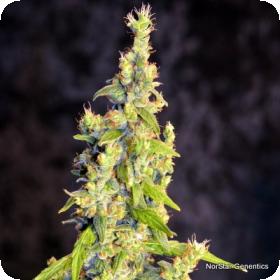 Chelumbian is an amazing combination between Exodus Cheese and Santa Marta Columbian Gold. This is a powerfully scented classic sativa strain with impressive yields and lots of pep. Chelumbian is a great getting stuff done strain, it keeps the brain light and active with a happy, perky effect that is ideal for anxiety.
The scent is earthy with a hint of wood and spice behind it. Over all this is just a really great daytime strain, perfect for those who just need a bit of help getting through.
This is a regular strain, which means it will require a light cycle to flower and will grow into both male and female plants. Regular seeds have been somewhat pushed out of the market recently, but are still very popular with breeders.
Since the split of males and females is roughly even the breeder has plenty of choice when it comes time to select parent plants. Choosing the very best two plants ensures a better future crop with any undesirable traits removed. Some growers also prefer regular seeds, especially those who wish to reintroduce cannabis into its natural habitat.
This strain needs 9 weeks to flower and can be grown indoors or outdoors.
Remember that the cultivation of cannabis seeds is illegal in some countries, please check the laws of your country before attempting to cultivate cannabis seeds.
Genetics:
Exodus Cheese x Santa Marta Colombian Gold