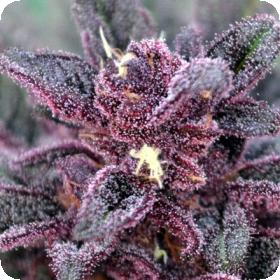 Big City Lights Regular Seeds
This uniquely beautiful strain is a combination between Dark Desire and Frisco OG. Big City Lights is the perfect going out strain with its happy effect and social yet relaxing edge that makes it great for hanging out with friends or just lying back and enjoying life.
This strain is a real treat to look at with its dark purple colouration and vast amount of glittering resin, it actually resembles a clear night sky. The scent and flavour a soft and rich which makes this strain a treat in every way.
Big City Lights is a regular strain, which means it will grow into a combination of male and female plants. It also means that it will require a light cycle in order to flower. Regular seeds are primarily popular with breeders and traditional growers.
Breeders favour them because of the even split of male and female plants. This gives them plenty of choice when it comes time to select the parent plants of the next crop.
Choosing the very best of each gender will ensure improved quality in future plants, whilst also removing any undesirable traits. Traditional growers usually prefer them for their simplicity and predictability.
This strain can be grown indoors or outdoors and needs 8 - 9 weeks to flower.
Remember that the cultivation of cannabis seeds is illegal in some countries, please check the laws of your country before attempting to cultivate cannabis seeds.