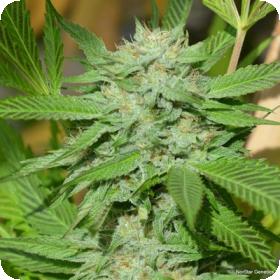 This strain is a combination between Chem D and Banana OG. It is a seriously pungent strain with a yummy mix of banana and candy flavours. This strain is super resinous and is an ideal strain for those who are looking for a quality medicinal plant.
This strain produces so many amazing plants that it can be difficult to select one winner. Definitely a triumph from the breeders at Norstar Genetics.
Banana D is a regular strain, which means that it will grow into a combination of male and female plants. It also means that it will require a light cycle in order to flower. Regular plants are very popular with breeders and old school growers.
As far as breeders are concerned this is largely due to the fact that the split of male and female plants will be roughly even. As a result they can select only the best of each gender to act as the parents of the next crop.
This will encourage the next lot of plants to be of a higher level of quality than the previous.
This strain needs 9 weeks to flower and can be grown indoors or outdoors.
Remember that the cultivation of cannabis seeds is illegal in some countries, please check the laws of your country before attempting to cultivate cannabis seeds.