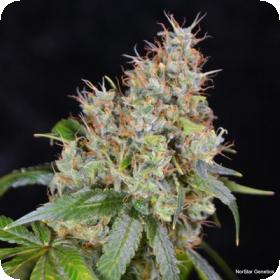 Alcatraz OG is a cross between Hell's Angels OG Kush and Frisco OG. It is a hard hitting and heavy strain that produces huge amounts of resin. Generally this strain is an absolute delight to grow, perfect for the real OG fans out there. This strain is extra potent and seriously delicious, excellent for extraction methods.
This is a regular strain, which means it will grow into a mix of male and female plants. It also means that it will require a light cycle in order to flower. A lot of breeders and old school growers still prefer to use regular seeds. They grow into a roughly even split of males and females, with maybe a few extra females, which gives the breeder lots of choice when it comes to selecting the parent plants.
The parents will decide on the quality and the attributes of the next crop, so selecting the very best two plants is extremely important.
This strain needs 10 weeks to flower and can be grown indoors or outdoors.
Remember that the cultivation of cannabis seeds is illegal in some countries, please check the laws of your country before attempting to cultivate cannabis seeds.
Genetics:
Amnesia Haze x Deadhead OG