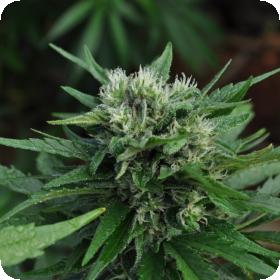 This exclusive limited edition Hybrid is a blend of 12.5% Mexican, 12.5% Early Pearl, 12.5% Early Girl, 12.5% Super Skunk and 50% haze, a veritable plethora of great genetics.
This strain is quite tall in structure and has a relatively fast flowering time considering it's haze genetics. The finished plant has been described as having an exquisite aroma and unique flavour, with a potent cerebral effect.
U2 is a regular seed, a variety still used worldwide by many of the more traditional growers out there. It is true that many growers looking to breed the same plant exclusively, often defer to feminised seeds, as only the female plants are required.
For those wishing to breed, however, the male plants are quite necessary.
This is what would allow a grower control over fertilization, where they would be able to select their preferred features and the ones less important to them so that only the finest male and female plants are allowed to reproduce, giving complete power over the future of the crop whilst also removing any genetic weaknesses. The seeds will then usually inherit only the best qualities from each parent plant.
The flowering period for this strain is approximately 9 to 12 weeks, depending on the phenotype. A grower would not grow outdoors in the Northern Hemisphere unless in a greenhouse, with shading to complete the cycle.
It would be able to flower in the Southern Hemisphere, but a grower would have to make sure they were not too far south, in order to avoid the damages of the rain and cold. It would then be harvested in June.
The expected yield of U2 is around 500 grams per square meter, with potential for more in outside conditions.