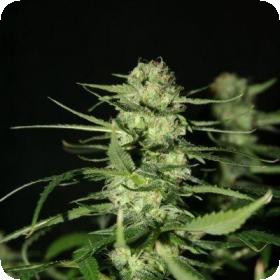 The stones are another of Mr Nice's exclusive limited edition strains. Comprised of a mix of 25% Afghan, 25% Skunk and 50% Haze genetics, this hybrid is a modern take on some old school genetics and certainly one to add to the collection.
It is a fairly fast flowering haze variety with a finished plant that is said to produce some extremely potent aromas and effects.
The Stones come as a regular seed, making it a much more robust option, especially when compared with other feminised alternatives.
This form of seed is especially popular among more traditional growers due to the flexibility it provides, in terms of a grower's ability to cultivate their own customised crop.
Had a grower the desire to cultivate only the same strain then it is true that a feminised seed would be the easier option, considering only the females are needed.
To breed a new crop, however, the males are very much a necessity and mean that a grower could pick out the aspects most desired about a crop and allow only those to breed, maintaining the best qualities of the strain whilst eliminating those less desirable to the cultivator.
For this reason, regular seeds are still very much a valued and sought after option.
The flowering period of this strain is around 9 to 12 weeks, depending on the phenotype. For outdoor cultivation in the Northern Hemisphere a grower would need to grow this strain in a greenhouse using shading to complete the cycle.
In the Southern Hemisphere it is harvested in June, but not too far south as the rain and cold would affect the flowering of the plant. A grower could expect around 500 grams per square meter, this being a minimum for outdoor conditions.