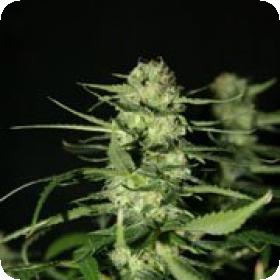 This limited edition hybrid is made up of a combination of 25% Afghan and 75% Haze genetics as part of the exclusive limited edition range now on the market from Mr Nice Seedbank.
It is a mostly sativa strain with some good landrace genetics, meaning it has quite a long flowering period. It has been said, however that this high quality hybrid is worth the wait, but would need a growers' attention as its dominant sativa properties mean it grows to a rather tall height.
This new blend of old genetics would be welcome in any collection.
That fact that G13 Widow is a regular seed makes it much more versatile than other, feminised seeds, which can be preferable to some of the more old school growers.
While feminised seeds are the easier option for exclusively growing the same strain, as only the female plants are needed, the males are essential if a grower were to create their own crop through breeding.
It is the pollen produced by the males which enables this, meaning a grower would be able to select the very best aspects of each plant, bringing their preferred features into the new crop, while eliminating those deemed not in line with their ideals.
It is therefore preferable for many to have the flexibility that regular seeds provide in being able to control all aspects of a crop to a growers ideals.
The flowering period for this strain is around 16 weeks. In the Northern Hemisphere this strain would only really do well in places like Italy, Spain or Portugal, in the southern regions of Europe, and would be ready to harvest by December. In the Southern Hemisphere it is harvested in June.
A grower could expect a yield of around 600 grams per square meter, with this being the minimum in outdoor conditions.