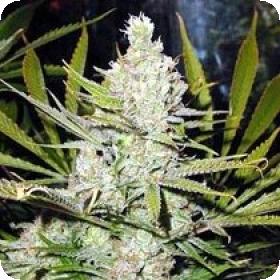 Super Silver Haze Regular Seeds
Super Silver Haze is an exceptional strain, which comes as no surprise considering it's three consecutive wins in the 1997, 1998 and 1999 High Times Cannabis Cups.
It is made up of 25% Skunk, 25% Northern Lights and 50% Haze, three of the most well known strains in existence in and out of the Cannabis scene.
With its impressive genetics, this strain is the latest in practical Haze hybrids, making it something a grower would find quite an effortless grow, but still producing high levels of THC. The finished plant is described as having a sedative, relaxing effect.
Super Silver Haze as with the many other seeds from Mr Nice, is a regular seed. Regular seeds are often the first choice for growers of a more traditional ilk, or those just wishing to breed their own strain.
While many growers grow the same strain exclusively, with no need of the male plants, a grower looking to create their own crop would need these males for their pollen.
In this way, a grower could selectively breed the plants with the phenotypes most matching what they would like in their new crop and ensure that only the best mother and father plants are bred.
This control over the fertilisation would mean that the offspring of the plants would then hold all of the good qualities of each parent plant, with none of those less desired by the breeder.
The ability to cultivate a customised crop such as this is why regular seeds remain a popular choice among many growers.
This strain can be grown both indoors and outdoors and would have an expected flowering time between 8 and 10 weeks. A grower could expect a yield of around 450-550 grams per square meter indoors, with even bigger results in outdoor cultivation.
This strain is harvested in late October in the Northern Hemisphere and by mid to late April in the Southern Hemisphere.
Genetics:
Skunk / Northern Lights / Haze