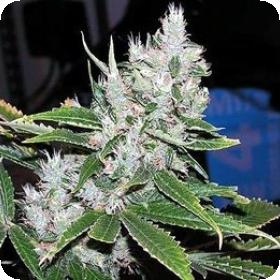 Mr Nice's Spice is an exotic hybrid born of the combination of a Hawaiian Indica and a Hawaiian Sativa. This strain is said to be a very stable and fast-growing plant that produces large resin coated buds and boasts some wonderfully fruity smells and tastes with a balanced effect.
A grower would find this a very easy plant to grow, either indoors or out, they would, however, need to take height into consideration as this strain has the potential to grow quite high. This truly would be a great addition to any collection.
Spice is a regular seed, meaning it produces both female and male plants at a roughly half-and-half ratio.
While the male plants are not usually needed for a grower wishing to grow just the same strain, they are quite essential to a grower wishing to breed their own strain, as they produce the pollen needed for fertilisation.
The breeder would be able to choose the aspects of each strain in line with their preferences for their crop and selectively breed only those with these qualities, ensuring that the offspring inherits only the best features of each parent plant, at the same time getting rid of any weaknesses.
In this way, the crop is tailored to their own desires, giving a grower a customised strain all their own. A regular seed is, therefore, often preferable for many of the more traditional growers.
Spice has a flowering period of approximately 7 to 9 weeks. A grower could expect a yield or around 500-600 grams per square meter and the plant is harvested between late September and early October in the Northern Hemisphere and by the end of March in the Southern Hemisphere.
Genetics:
Hawaiian Indica x Hawaiian Sativa