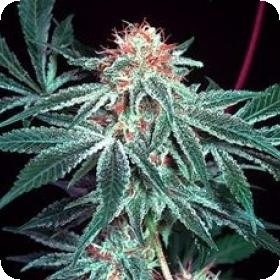 Shark Shock Regular Seeds
Shark Shock it undoubtedly one of the most successful strains of the late 1990's since it's introduction under the name Great White Shark.
It is made up of a combination of White Widow and Skunk #1, two renowned strains in themselves, and has won numerous Cannabis Cup awards as both Great White Shark and The peacemaker.
It is said to grow some impressively compact buds with some powerful scents. A great seed to have in any collection.
Shark Shock is a regular seed, making it especially popular with the more traditional growers out there. It is widely agreed that feminised seeds would be the easier option for a grower if they wanted only to grow the same plant.
For a grower wishing to breed their own, however, the male plants produced by regular seeds are essential.
Using the pollen produced by the male a grower could ensure that only the finest male and female plants, with the features they desire to be carried onto the offspring, are allowed to breed.
This would make a customised strain with those aspects the grower wants, while eliminating those found less desirable. It is this control over the strain which means regular seeds are the preferred variation for many growers.
Shark Shock can be grown in both indoor and outdoor conditions, but this extremely robust plant does especially well in a greenhouse. It has an expected flowering period of around 7-8 weeks.
A grower could expect a yield indoors of 500-600 grams per square meter. It is harvested between September and early October in the Northern Hemisphere and between March and early April in the Southern Hemisphere.
AKA:
Great White Shark/Peacemaker
Genetics:
White Widow x Skunk No. 1