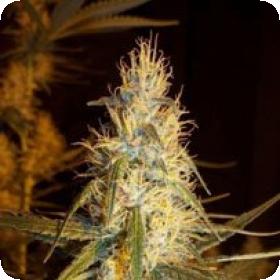 Mr Nice's Pink Floyd is a combination consisting of 25% Afghan, 25% Skunk and 50% Haze, making it a strain a grower would find quite easy to manage.
Once finished it has been described as having flavours and fragrances ranging from the much more sweet side, with twists of fruit and berries, to the more spiced, piney and lemony varieties, without compromising on the haze effect.
Pink Floyd is comes in the form of a regular seed, as with many of Mr Nice's seeds. It is true that some growers would prefer a feminised seed if they were wishing to grow the same strain only, as the males are not needed or wanted in this case.
Were a grower to breed their own strain, however, the males would be very necessary, as they produce the pollen need for fertilisation.
The grower would then have the option to pick out the finest plants, exhibiting phenotypes aligned with their own preferences and ensure that only these plants could breed.
Thus, ensuring that the offspring take on only the desired traits, leaving behind those of a weaker or less desired nature to create a plant tailored entirely to a grower's wants.
This power over a crop is why regular seeds remain a favourite with growers, specifically of a more old school sort.
The flowering period for this strain can vary quite a lot depending on phenotype, with some sitting 9 weeks, but generally a grower could expect the plant to be completed at around 10 to 12 weeks.
Pink Floyd can be grown indoors and outdoors. In the Southern Hemisphere, a grower would, however, need to be mindful of how far south, since the cold and rain can impinge on the progress of the plant.
If a grower were to grow in the Northern Hemisphere it would be best done in a greenhouse only and shading would be required.
It is harvested in June in the Southern Hemisphere and a grower could expect a yield of approximately 500 grams per square meter, with potential for more in outdoor conditions.