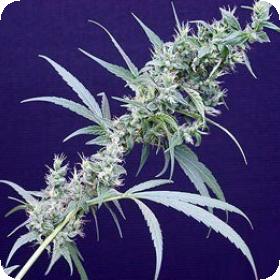 Neville's Haze x Mango Regular Seeds
This multifaceted hybrid is made up using a combination of the two Haze males used by Mr Nice Seedbank. This strain is comprised, essentially, of 12.5% skunk, 25% Northern Lights 5, 12.5% Haze A male and 50% Haze C male.
This plant is said to have the capacity to stretch to quite some height and so needs a high space in which to grow.
This plant is one that needs to grow considerably, so a grower would definitely use a 12/12, in some cases perhaps 10/14, light to night ratio, in order to compel flowering. A grower would also need to ensure a very dark nighttime, to help force the plant to flower.
The finished product's smell and flavour are described as being quite exceptional with altogether cerebral effect.
Neville's Haze x Mango is a regular seed, a variety still used worldwide by many of the more traditional growers. It is true that many growers looking to breed the same plant exclusively, often defer to feminised seeds, as only the female plants are required.
For those wishing to breed, however, the male plants are quite necessary.
This is what would allow a grower control over fertilization so that only the finest male and female plants are allowed to reproduce, giving complete power over the future of the crop whilst also removing any genetic weaknesses.
The seeds will then usually inherit only the best qualities from each parent plant.
The aromas and taste of the finished product will be the most wonderful surprise for the growers and their hard work: it will be nothing less than superb. The effects will be cerebral and possibly a bit trippy so use the medicine well.
The expected flowering time can vary quite a bit depending on the phenotype of the plant. Generally, a grower could expect it to be between 10-14 weeks, possibly a little earlier if the crop were leaning more towards the NL5 or Skunk side.
The yield of this strain is around 450-500 grams per square meter. The north hemisphere will be difficult for this plant only Southern Europe like Italy Spain Portugal would allow this plant to finish by November while in the Southern Hemisphere it will take until late April/early May.