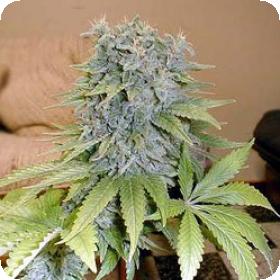 Medicine Man Regular Seeds
Medicine man, as the name may suggest, is heralded as no less than a medical marvel for those patients in need of high levels of CBD. It was first introduced as the White Rhino in the late 90s and has won many awards since then.
It has remarkably strong genetic origins arising from a Brazilian sativa/South Indian hybrid blended with an Afghani known for its incredible yield.
It is a member of the White Widow family and is said to produce some exceptionally resinous and dense buds with a distinctly indica appearance to them. This plant is widely agreed to be somewhat of a champion for those with severe and terminal sickness around the world.
This being a regular seed, it will be quite popular with the more traditional growers out there. Many agree that the feminised variety is a much more user-friendly option if a grower were looking to grow only the same strain and nothing more.
For a grower wishing to breed and cultivate their own varieties, however, the obvious choice would be a regular seed.
This would allow the grower to pick and choose the traits that they find desirable in a strain and selectively breed to ensure that these aspects are kept, while being able to remove those aspects that are less needed or wanted.
The next generation would therefore be customised to growers own preferences.
A grower could expect the flowering time for Medicine man to be approximately 8 to 9 weeks and a yield of around 600 grams per square meter in indoor growing conditions and 450 - 600 grams per plant in outdoor conditions.
It is harvested around October in the Northern Hemisphere by May in the Southern Hemisphere.
Genetics:
Brazilian sativa / South Indian indica x Afghani