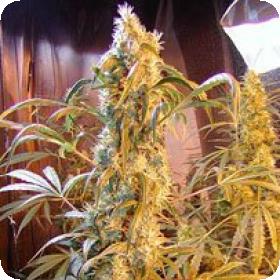 Mango Widow Regular Seeds
Mango Widow's heritage is extremely impressive, with a genetic makeup combining two exceptional hybrids into a single plant line. It has its origins in many exotic places around the world, leading to a plant that has been described as having some superb flavours and aromas.
This plant grows to a medium tall height, has a light-green colour to it and is said to produce some exceptionally large and potent buds.
This being a regular seed, it would also make it much more flexible, in terms of breeding, than feminised seeds, for a grower. Feminised seeds could be an asset to a grower if they wished only to grow the same strain, since only the females are needed.
If a grower wanted to breed, however, a regular seed would provide the male plants needed and therefore the control over the future crop.
This would allow a grower to select only the best mother and father plants, passing on the desirable traits whilst eliminating the parts of the plant they do not wish to take to the next generation.
This ability to customise the crop is what would draw a more traditional grower to this type of seed.
Mango Widow has a flowering period of approximately 8 to 10 weeks, this does, however, depends on the climate and the selected phenotype. It has a yield of around 350-500 grams per square meter in indoor conditions, with the possibility for a larger yield outdoors.
This plant is usually harvested around early October in the Northern Hemisphere and in April in the Southern Hemisphere.