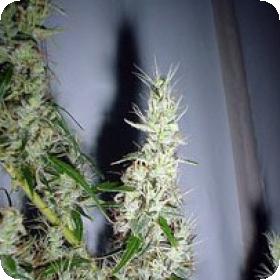 With ancestors that have won as many HTCC awards as this plant's have, a grower would be guaranteed a good result from working with Mr Nice's Mango haze.
This strain has the same Haze father as the Super Silver Haze and its mother is the sister of that same SSH strand, making it a parallel to the plant. It therefore, in accordance with this, has a genetic makeup of 25% NL5, 25% Skunk and 50% Haze.
One aspect of this plant that would be a positive, for both an indoor or an outdoor grower, is its resistance to mould. Mango Haze is said to maintain an exceptional resin production, and to have the beautiful aroma of fully ripe mangos when complete.
The effect of the finished plant has been described as very cerebral.
With this strain taking the form of a regular seed it would undoubtedly be popular with more traditional growers. It is widely agreed that a feminised variety would often be more sought after for a grower wishing to cultivate only the same strain of plant.
Regular seeds, however, are still widely used, especially for growers who want to breed, as the male plants are obviously essential to this process.
The grower can then pick and choose their desired phenotypes and selectively breed according to this while eliminating the weaker aspects of the crop. For this reason, regular seeds are still very much a popular option.
The expected flowering period of this strain can vary based on the selection of the mother but in general it would take approximately 8 to 11 weeks. In the Northern Hemisphere it will only finish in southern parts like Spain, Italy, France etc... in October.
In the Southern Hemisphere it will finish in April/May.
A grower could expect this strain to produce a yield of between 450-550 grams per square meter (based on using minimum of 600 watts lamps) with the potential for an exceptional yield when grown outdoors and it is harvested between the months of October and November.