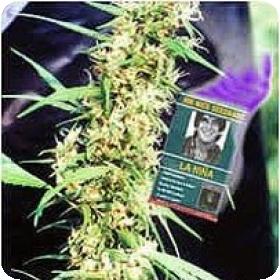 Strongly related to El Nino, winner of the Bio Cup at the 1998 High Times Cannabis Cup, Mr Nice's La Nina is composed of a mixture of Haze and the infamous White Widow, making it an extremely desirable seed to collect.
Typically, this plant grows to a medium size and is said to produce a remarkable amount of resin around the stem of the plant, forming substantial yet airy buds as would correspond with the Haze influence.
The results have been described as powerful with an exotic combination of haze flavours consisting of fruit, sugar and lime.
It is unsurprising that this strain is well-received as an extremely effective medicine with the rare combination of being a potent painkiller while still leaving the consumer with a good level of functionality.
Mr Nice's La Nina is a regular seed. Regular seeds remain the preferred choice for the more traditional growers and are still used worldwide for breeding purposes.
It can be agreed that many growers would have no need for the male plants that are produced since they do not use them, for others, however, they would be quite necessary.
Complete control over the future of the crop can be obtained through careful selection of which male and female plants reproduce, maintaining the desired aspects whilst also removing any genetic weaknesses. The seeds will therefore inherit only the best genes from each parent plant.
The flowering period for La Nina is around 9-10 weeks. It is ready to harvest in October in the Northern Hemisphere and in April in the Southern Hemisphere.
La Nina does well in all growing conditions, both indoors and outdoors, although a grower would need to monitor the height of the plant as it can stretch to some height if not kept trimmed. A yield of around 450-550 g/m2 could be expected from this plant.