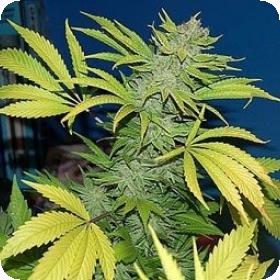 G13 is probably one of the best known mainstream cannabis strains, due to the tales surrounding its origin. Since it was only available as a female clone, it has been combined with several other stable hybrids to preserve the genetic pool.
This plant's origins indicate an Afghani ancestry; combining that with the Skunk line makes the first generation seeds exceptional value, especially in regard to the more medicinally valued plants, known to be effective against medical ailments including pain management, MS, arthritis and depression.
The flower cluster has been described as being very dense. As the plant matured, a grower would need to monitor for mould if the humidity were moderate to high through the last weeks of the plant's life. This plant has not been known to stretch much.
G13 Skunk has two rather distinct characteristics, a serrated edged leaf trait and an unusually bright green hue to the plant as it grows.
G13 Skunk is a regular seed, a seed type often favoured by the more traditional growers. It is the consensus that feminised seeds would be the easier option for a grower exclusively growing the same strain, as only the female plants are needed.
The males and the pollen they produce, however, would be necessary if the grower were looking to create their own crop through breeding. Many much prefer the freedom provided by a regular seed, in terms of the grower's ability to tailor a crop to their own desires.
G13 Skunk has a typical flowering period of around 7 to 9 weeks and is harvested in September. It is said to grow with equally impressive results in both indoor and outdoor growing conditions. A grower could expect a yield of around 500-650 grams per square meter.