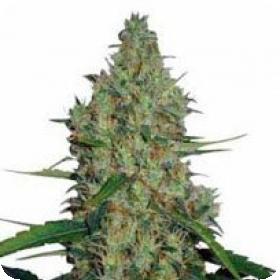 The classic G13 is kept alive with this exceptional G13 hybrid formed from a combination of the widely known G13 and a Hawaiian sativa strain. Since G13 was only available as a female clone, Mr Nice Seedbank's G13 is a hybrid that has been inbred.
All G13 hybrids are inbred as that is the only way to maintain the strain in a form to produce seed for distribution. This strain is said to boast both strength and effect; two attributes that could be combined well in making new poly hybrids.
It is already used in several medical strains and those who have grown her know it is an effective medicine. It grows to a short height for a mostly sativa strain and has a remarkably dense flower structure, producing a lot of resin.
G13 Haze is a regular seed which is usually popular with some of the more traditional growers out there.
The use of feminised seeds, it is widely agreed, is the easier option for exclusively growing the same strain, as only the female plants are needed.
The males, however, are essential if the grower wishes to create their own crop through breeding as it is the pollen produced by the males which enables this.
Many much prefer the flexibility that regular seeds can provide, therefore, in terms of being able to tailor a crop to a grower own wants or needs.
G13 Haze has a flowering period of about 9 -11 weeks, and is harvested between November and early December in the Northern Hemisphere and between May and June in the Southern Hemisphere.
The yield of this strain is not as predictable as some. The breeds that make it up, however, can produce rather large yields with sativa experience. With this in mind a grower could expect 500-750 grams per m2.