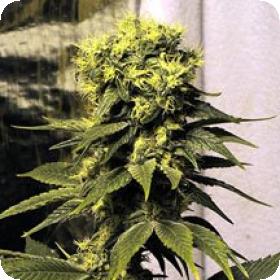 Early Queen Regular Seeds
Early Queen is a 3-way cross that has earned a reputation for being a fast-finishing strain that grows well both indoors and out. It is also an ideal strain for growing in a variety of climates that stands up well to the cold. It possesses the most appreciated qualities of Early Californian blends with a touch of Mexican, Early Pearl, Early Girl, and Super Skunk.
Northern hemisphere growers will appreciate its ability to stand up to the elements, but it can become damaged in frost. Harvest time should ideally be scheduled for the end of summer, but a little later should be fine, too. In the southern hemisphere by March.
The plants finish after a lightning fast 6-8 weeks when grown indoors. Outdoors, it could take up to 2 weeks longer. When grown indoors, the plants produce about the same and don't insist on any special treatment or care to produce well. Maintain a steady 12/12 light cycle at 600 watts and monitor the nutrient levels in the soil or hydro setup and you will be rewarded with significant yields. Expect an average of 500 g per square metre indoors or out.
Early Queen is a balanced indica/sativa. The plants grow to a medium height and the effect of the end product is a balance between a relaxing stone and clear-headed, full-body high. It will leave you alert but very relaxed. It won't help with productivity but it can help provide relief from migraines, nausea, and joint and muscle pain.
A word to indoor growers: the Skunk genetics give these plants a pungent odour. When growing Early Queen in large numbers, good ventilation and air filtration will be necessary to keep the smell from permeating a considerable radius, including outdoors. Beyond that, this is an easy plant to grow and it also clones quite well.
Genetics:
Early Pearl x Early Girl x Super Skunk