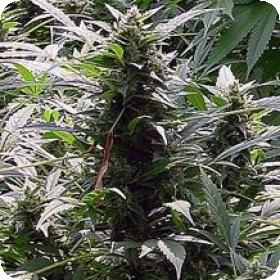 Take advantage of this 18-seed mega pack that comes with a variety sampling of some of the best strains in the Mr. Nice line. In this pack you will get one or more of each of the following:
Skunk - The all-time classic sativa in its purest form available as a regular cannabis seed. Highly regarded for both its recreational and medical applications, Skunk is also one of the most hybridized strains around. If you haven't worked with it before or don't know which one it is when they start to grow, don't worry, it will let you know! The pungent smell it emits s a dead giveaway. Flower time is 8-10 weeks on average.
Northern Lights - That's "NL" for short and it is another winning strain. It has also been the subject of numerous hybridization projects, mostly to improve upon its own quality and effects. This one is all Indica so look for squat, tight plants with numerous clusters of sweet, resin-soaked bud. Flower time is about 9 weeks and it makes a great addition to your grow room or garden.
Haze - Another building block for hybridizing projects, this iconic mostly-sativa strain can be identified by tall plants with lots of lateral branching. It is best suited for outdoor growing or for grow rooms with high ceilings. The buds grow fat and dense and have a thin but potent coat of sticky resin when fully mature. Flower time is between 8 and 10 weeks depending on the grow method.
Afghan - This is another powerhouse Indica that has provided the genetics for some of the world's most sought-after strains. Look for plants that are squat and tight with thin serrated-edged dark green leaves and small but tight buds on numerous flower sites. This is an ideal plant for indoor growing and it takes well to either soil or hydro. Flower time is about 8 weeks on average.
Expect flowering time indoor of 60+ days... but it really depends upon the phenotype you are working with. In the North/hemisphere September/October/November and in the South/hemisphere April/May/June.