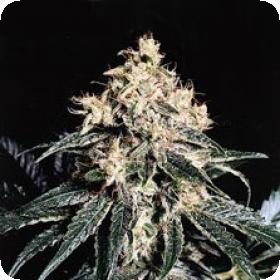 Get ready for one HELL of a smoke. Outdoor growers rejoice! Mr. Nice has created a strain that is especially suited for outdoor or greenhouse growing that has everything that makes the classic Afghani strains great. The flavour is all Afghan, the aroma is all Skunk (and it is STRONG!) and is regarded as a great medical strain when used to combat insomnia, anxiety and muscle or joint pain.
If you plan to grow indoors, that's fine, too. These plants prefer soil-based grow methods so make sure your grow room s well-stocked with pH-balanced soil and right nutrients. Yields indoors might be slightly lower than outdoors but all the quality remains.
When growing outdoors, be sure to give these plants loads of time to bask in the sun. Planting early summer will maximize exposure to sunlight and increase yield. In the Northern Hemisphere , especially for the greenhouses, it should be ready end of September early October. In the southern hemisphere it should be ready by the end of March early April. mExpect to be able to harvest Devil Regular after just about 8 weeks.
The effect is almost sinful in its ability to fill the head and keep you locked down for hours. The plants will require a little pruning to maximize yield but the effort will be well worth it. Yields average about 500 g per square metre and the quality is everything that one should expect from a strain with these phenomenal genetics.