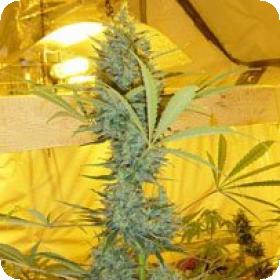 Critical Haze Regular Seeds
"Critical Haze" is the iconic cross of two classic parent strains that each own stellar reputations. Mr. Nice took their best Critical Mass and crossed it with one of their best Amnesia Haze plants.
It's a hybrid that's been tried by a number of breeders, but some would say it has been perfected by Mr. Nice. The buds are very dense with a thick coat of shimmering resin.
The plants are hardy producers with a list of distinct characteristics that, when brought together, make for a singularly superior experience that is second to none.
Critical Haze's strongest suit has to be its potency. This is not a strain for beginners. With high THC, this bud packs a wallop. The flavour of Critical Haze is equally powerful and is described as dank and spicy with significant tones of hash.
It draws the best possible traits from each parent strain and provides excellent yields. Indoor growers can reasonably expect to get upwards of 450-650 grams per square metre of top-shelf bud.
Speciality growing methods and a little additional care can boost those numbers even further. Allow 10-12 weeks on average for these plants to finish.
When growing outdoors, Critical Haze will often produce a substantially lower yield but areas with long summer days and ample sunshine should be able to pull more bud than average from the typical plant.
You can also expect multiple harvests from plants that are grown in areas with long growing seasons.
In an outdoor grow in the Northern Hemisphere by early to early/mid October and in the Southern Hemisphere by mid/late March. This strain tolerates cold water, even a mild frost, but should still be planted to avoid having to put the plants through their paces.
If you live in an area where the seasons change drastically, we recommend buying these seeds for indoor cultivation.
Genetics:
Critical Mass x Afghan Haze