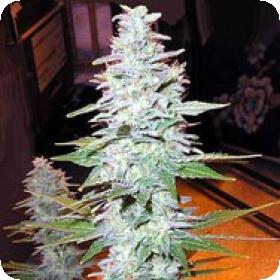 Black Widow Regular Seeds
Black Widow Regular has been winning awards since the mid 1990s including the 1995 High Times Cannabis Cup. It is recognized for its quality all over the world and it deserves every last accolade.
It is a cross between a Brazilian Sativa and a South Indian and with that kind of noble parentage it couldn't be anything short of the best.
Indoor growers should allow about 10 weeks from seed for the best quality bud. With a little patience these buds will grow thick with sticky, delicious, and potent resin. The plants grow to a medium height, so they don't require an excess of vertical space.
They do tend to branch out quite a bit so reserve enough floor space for the entire plant to get plenty of light.
Feel free to use any grow method you like - these seeds are very versatile and grow well under a variety of conditions and in a variety of environments. Speciality methods work well but a proper pH-balanced soil will also do the trick.
Outdoor growers will also achieve success with these seeds in a variety of climates. They stand up well to both cooler and warmer temperatures and are not typically bothered by humidity either. Be sure to plan harvest before first frost.
Black Widow can be harvested late Summer to mid-autumn. In the southern hemisphere end of March to April.
Each pack contains a generous 18 reliable seeds. You can expect a better than 90% germination rate and strong, healthy plants with the right balance of nutrients and light.
A 12/12 light cycle during the flower phase will yield best results when growing indoors and outdoor growers will have the best luck growing Black Widow at the height of summer when days are long and sunlight abundant.
Genetics:
Brazilian Sativa x South Indian Indica