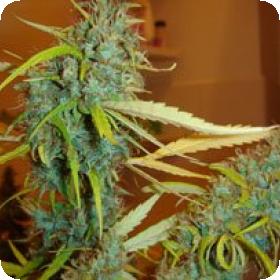 Angel Heart (Mango Haze x Afghan Skunk) Regular Seeds
If ever there was a strain that was close to perfection in terms of flavour, Angel Heart is it. This mouth-watering variety is sure to become a fast favourite and leave the user wanting more.
An expert cross of Mango Haze and Afghan Skunk, the fruity yet pungent offspring provides an eclectic offering of tantalizing stimulations for both the brain and the senses.
Flowering time for Angel Heart is anywhere from 9 to 10 weeks making it particularly suited for indoor growing. Don't be impatient with these plants.
Experienced growers will know when they're ready, and they should be allowed to grow until they are at their peak both in appearance and in aroma.
A 12/12 light cycle is recommended and at an average height of 1.5 metres, the plants lend themselves well to grow rooms with low ceilings and closets as well as speciality grow methods like Sea of Green, Screen of Green and Deep Water Culture.
Expect yields upwards of 400-600 grams. Prune the lower branches during the pre-flower stage and you will thrust all kinds of power into the plants' colas. It will concentrate the buds into a tight space, and they will produce a thick coat of delicious resin.
Humidity is not a huge concern with Angel Heart since the plants naturally resist mould. Be careful with ventilation, though, since the Skunk genetics definitely make themselves known in the smell the plants emit.
If you are an outdoor grower, don't think you can't work with Angel Heart. In the Northern Hemisphere one would expect it to be ready by early October. In the Southern Hemisphere it should be ready by mid to end of March.
The plants do grow well outdoors, particularly in warmer climates, even if the summers are particularly hot and humid.
Genetics:
Mango Haze x Afghan Skunk