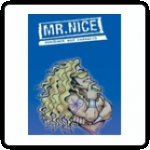 Mr Nice Seedbank was started in the 1990s and is owned by a gentleman named Shantibaba. He works with other talented breeders in order to produce many legendary strains of cannabis. He works in collaboration with Howard Marks and together they have a staggering amount of breeding and growing experience.
They focus mainly on retaining the favoured strains of cannabis that have been proven to be the most popular on the market. This ensures that these strains will not be lost to the public. Mr Nice Seedbank is dedicated to producing the finest strains of cannabis and maintaining a very professional working environment. All of the seeds are grown and harvested indoors within pollen proofed rooms so that they have complete and utter control over all breeding. This way they can ensure that only their finest plants breed and that there is no accidental seed manufacturing. Just because they are grown and harvested indoors does not mean that they have to be grown indoors. All of the seeds can be grown both indoors and outdoors.
They also care a great deal about the many different uses of marijuana such as medical. Marijuana is a fascinating plant which contains many different cannabinoids which have been proven to help to ease the symptoms of many debilitating diseases. This is why the good people of the Mr Nice Seedbank try to focus on breeding seeds which contain these cannabinoids so that they are freely available to those that need it. To ensure that they are supplying the strains that are the most in demand on the market at the moment.
Mr Nice Seedbank has won many awards for their legendary strains over the years and supply only top quality produce for their many loyal customers. They are still working on perfecting all of their strains so that they can spread their fan base even further and keep supplying their phenomenal produce freely on the market.
Please remember that the growing of cannabis plants and the cultivation of seeds is illegal in some countries - please check the laws of your country and don't be growing any plants if it is against your country's laws.