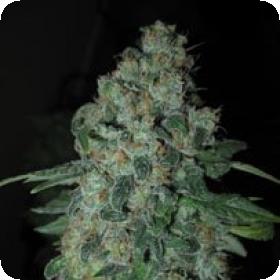 Tsi Fly is a great mostly indica variety from Mosca seeds. It is a great hybrid cross between a C4 female and a Cinderella 99 male, then back-crossed one generation for increased stability. The plants grow in a tight, branchy internodal formation.
The buds range in size from huge to enormous and form long colas as they grow and develop.
The plants are relatively squat and bushy but they don't stretch considerably with an average height that almost never exceeds 3 feet. A few rare specimens can reach about 100 cm.
This makes them good candidates for smaller growing spaces or for commercial growers who want to grow a large number of compact, well-yielding plants.
They are also a good choice for those new to cannabis cultivation as they are very forgiving and don't place too many demands on the grower.
Some growers report that these seeds perform best in greenhouse setups. They also work great in grow rooms with low ceilings and on shelves and are a hydro grower's dream come true. Better still, these plants grow easily with very little maintenance.
Outdoors, Tsi Fly regular performs well in a variety of conditions and are nicely resistant to mould and fungus. They can handle all kinds of weather conditions but should be brought in before widespread frost.
Latest harvest should be sometime mid-October for best results. The plants finish in about 8-9 weeks on average and the longer they're allowed to grow the better.
The aroma and flavour of these plants is the same: it has earthy, grassy notes that mingle with a syrupy-sweet apricot. The effect is very indica with a heavy, head filling stone.
THC content is moderate but the effect can leave some users locked to the couch for hours. This is a great strain for combatting insomnia but is not recommended for daytime use.