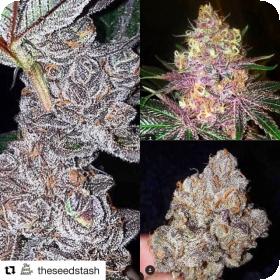 Raspberry Moonshine Regular Seeds
Rapsberry Moonshine is a deliciously fruity strain that tastes strongly of blueberries and raspberries. The buds are extremely dense and heavy with huge amounts of resin  and a low leaf to calyx ratio.
The THC level is extremely high, thanks to Old Time Moonshine, and the effect is powerfully relaxing verging on couch lock. This strain is ideal for relaxing of an afternoon and watching a good film.
This strain is regular and will grow into a mix of male and female plants. They are also photo-period and will require a light cycle in order to flower.
The split of males and females is roughly even, which gives the breeder lots of choice when it comes time to choose the parents of the next crop.
Selecting the very best parent plants will improve the quality of the next crop, while removing any weaknesses found in the previous crop. The split is usually balanced but there will often be a few more females than males.
This strain has a flowering time of 55 – 58 days and can be grown indoors, outdoors or in a greenhouse.
Genetics:
Raspberry Kush x Old Time Moonshine