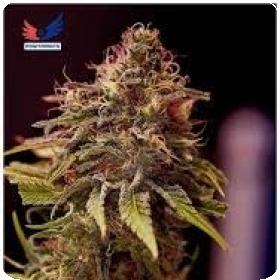 Pinky Blinders Regular Seeds (Limited Edition)
This fantastic cross between Alpha Diesel and Pink 2.0 is another amazing limited edition strain by the breeders at Mosca Seeds. It is a versatile and extremely potent plant that has some excellent medicinal properties, thanks to the Pink 2.0 father.
This strain is perfect for those who are suffering from arthritis or migraines. Again, this strain is limited edition and will be snapped up quickly.
Pinky Blinders is a regular strain, which means that it will grow both male and female plants. This will make everything a lot easier for breeders, especially since the split is roughly even. Regular seeds are simple and will flower in response to a specific light cycle.
The even ratio of male and female plants gives the breeder lots of choice when it comes time to select parent plants. By choosing the very best specimens they can improve the over all quality of their crop. Regular seeds are also very popular with old school growers.
This strain can be grown indoors, outdoors or in a greenhouse.
Remember that the cultivation of cannabis seeds is illegal in some countries, please check the laws of your country before attempting to cultivate cannabis seeds.