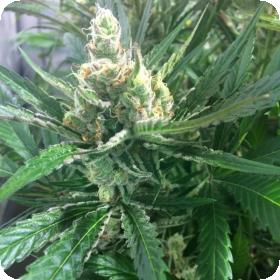 Pink Lemon-Aid Regular Seeds
Pink Lemon-Aid is a combination of Lemon G and Pink 2.0, a male that has been used in lots of strains by Mosca Seeds. It is used because of its fantastic medicinal properties, it is highly recommended for those suffering from arthritis and migraines.
This strain is quickly becoming famous for its powerful citrus scent and flavour. It is a perfectly balanced hybrid of indica and sativa which reaches average heights. It's indoor yields can reach up to 600 - 800 g/plant and will need a decent vegetative period.
This is a regular strain, meaning that it will grow into both male and female plants. Regular seeds are also photoperiod, which means that they will require a light cycle in order to flower. Regular seeds are most popular with breeders, due to their simplicity.
The split of male and female in a regular crop is about 50/50, meaning that breeders have plenty of choice when it comes to selecting the parents of their next crop. This is a great way to improve the general quality of a crop whilst weaning out any genetic issues.
This strain needs just 56 days to flower and can be grown indoors, outdoors or in a greenhouse.
Remember that the cultivation of cannabis seeds is illegal in some countries, please check the laws of your country before attempting to cultivate cannabis seeds.