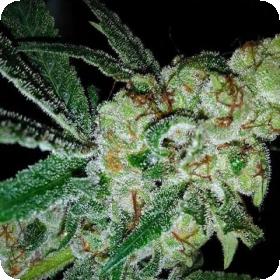 Pink Gorilla Regular Seeds
This strain comes from two wonderful plants, Gorilla Glue #4 and Starfighter Pink 2.0. This combination is an immediate winner with the Gorilla mother being a recent favourite in the cannabis community and the father having a doling out a good deal of power, flavour and motivation.
The plants will be medium sized and can give some seriously impressive yields of up to 1000 g/plant. Like many other strains that contain Pink 2.0 this strain is perfect for those suffering from arthritis or migraines.
Pink Gorilla is a regular strain, making it ideal for all types of breeders. They will grow into a combination of male and female plants whilst also require a light cycle in order to flower.
Most breeders prefer to use regular seeds because of their easy to grow and easy to breed nature.
The even mix of males and females gives breeders plenty of choice when it comes to selecting the parents of the next crop. Some old school growers also prefer regular seeds to their "user friendly" counterparts.
Often regular seeds are used in attempts to reintroduce cannabis into the wild.
This strain can be grown indoors, outdoors or in a greenhouse and has a flowering time of 56 - 63 days.
Remember that the cultivation of cannabis seeds is illegal in some countries, please check the laws of your country before attempting to cultivate cannabis seeds.
Genetics:
Gorilla Glue #4 x Pink 2.0