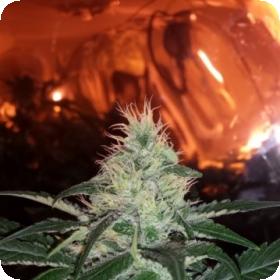 Pink Bubble Gum Regular Seeds
Pink Bubble Gum is a sweet and sugary taste sensation, it tastes exactly like bubblegum! It is a cross between Indiana Bubble Gum and Pink 2.0. This cross has created an extremely flavoursome and delicious smelling strain that is sure to delight even the most discerning critic.
Due to the Pink 2.0. parentage Pink Bubblegum has some excellent medicinal uses. It can be used by those suffering from arthritis and migraines. Due to the high resin production of this strain it is recommended to anyone who enjoys making concentrates.
This is a regular strain, meaning that it will grow into male and female plants. It also means that they will require a light cycle in order to flower. Most people are drawn to these seeds because of their easy to grow nature and stability. They are primarily popular with breeders, who require both genders in order to easily cultivate their own crops.
Since the split of male and female is about even they have plenty of choice when it comes to selecting the parent plants, improving the next crop and removing any genetic weaknesses.
This strain has a flowering time of 56 - 63 days and can be grown indoors, outdoors or in a greenhouse.
Remember that the cultivation of cannabis seeds is illegal in some countries, please check the laws of your country before attempting to cultivate cannabis seeds.
Genetics:
Indiana Bubble Gum x Pink 2.0