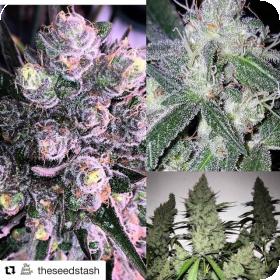 Diesel Moonshine Regular Seeds
This strain is a fantastic cross between Sour Diesel and Old Time Moonshine. Diesel Moonshine is definitely Sour Diesel dominant and has retained the fantastic scent and effect of this famous strain.
The plants will not grow too tall, usually around 12 – 15 inches, which makes them superb for indoor growing. The yields are still extremely impressive and the plants will produce lots of large, resinous buds.
Diesel Moonshine is a regular strain and will grow into a combination of male and female plants.
This makes it ideal for growers who plan on breeding their own crops. For these growers the male and female split of roughly 50% each way makes breeding easy.
The roughly even split of males and females means that the breeder has plenty of choice when it comes time to choosing the parents of the next crop.
Selecting the very best parents will improve the over all quality of the next crop, while removing any genetic weaknesses. These seeds are also photo-period and will require a light cycle in order to flower.     
This strain has a flowering time of 60 – 65 days and can be grown indoors, outdoors or in a greenhouse.
Genetics:
Reserviour Seeds Sour Diesel x Old Time Moonshine