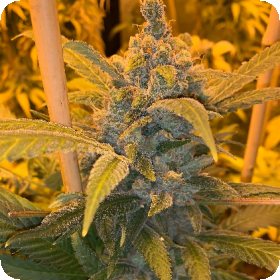 Alien Widow Regular Seeds
Alien Widow is a predominantly indica hybrid strain with a high potency.
This strain was created by crossing a female Sharon White Widow with a male Fire Alien White plant. It is not for inexperienced smokers!
The Sharon White Widow is regarded as the pinnacle of the White Widow family, possessing exceptional widow taste and a strong impact.
The father probably doesn't need an introduction by now, having been used to father the new Gas Line strains, named after the strong gasoline flavour it provides to all of its progeny.
Indoors flowering takes between 63 and 68 days, and the yields are considered to be very high. Even seasoned smokers will be amazed by this one!
Genetics:
Sharon White Widow x Fire Alien White