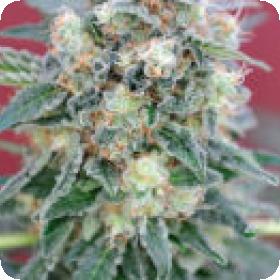 For Mandala Seeds 5th anniversary they recreated their exotic, high-class indica-sativa hybrid Yamuna€ from the Limited Collector€™s Edition, which was issued in their first year, and crossed it with their best Afghan parent from seed stock collected in the 1980€™s.
The result is an impressive stout plant oozing with resin that grows like an indica and feels like a sativa. Ganesh is an excellent choice for closet cultivation or a homebox due to it€™s short stature and the even growth pattern.
Plants vegged for 3 weeks in soil reach a height of approx. 60 cm when mature. Mandala Seeds unique combination of landrace genetics injects a lot of vigour into this strain and the thick shoots from mother plants provide quality cuttings over an extended period.
Due to the extreme density of the buds approx. 20-25% of the plants show some mold susceptibility in the top third portion of the head bud in the last week of flowering.
Therefore, this strain is best grown in spaces with humidity control. You should also water sparsely in the last week of flowering. Wait until the plants have slightly droopy leaves and give them just enough for their daily requirement.
This is a tried and tested method for strains with dense buds and very effective. A daily check of the top half or top third portion of the head bud during this period lets you detect mold early before it can cause any damage.
The dense and crystalline buds have a rich, skunky smell. A heavy-duty grinder is recommended for these chunky buds! The taste evokes the times of the finest Himalayan hash in the 1970€™s - sweet and earthy with a chocolatey finish.
Ganesh combines the best of both worlds: it€™s dense, glittery indica nuggets have great bag appeal and the sativa-dominant high leaves you functional, social, yet relaxed. Its a great strain for daytime activities' relaxation.
Genetics:
Yamuna x Afghan (Uttarkhand