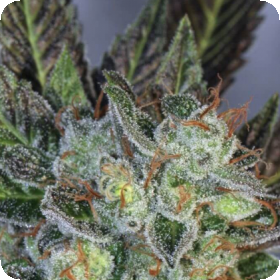 Boomerang is a 60 percent sativa hybrid that has been bred from two back-crosses. They were Amnesia Cookies B1 and Fire Afghan B1.
In the former strain, the Cookies tendency balances the very sativa-dominant Amnesia, and in the latter it is the OG character that has been emphasised by the use of the Fire OG BX male.
Boomerang shows overall sativa dominance, producing tall plants with a fairly high degree of stretch during flowering. It develops long hard buds of good density.
Flowering indoors takes 9-10 weeks, and outdoor harvesting in the northern hemisphere takes place in October.
This is a highly aromatic strain with caramelised, earthy notes. The effect combines psychoactive cerebral euphoria with strong physical relaxation.
Genetics:
Amnesia Cookies B1 x Fire Afghan B1