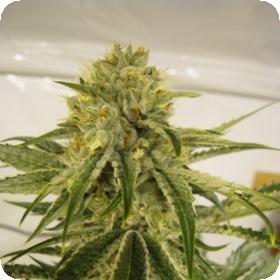 White OG V2.0 Regular Seeds
This incredible hybrid forms the backbone behind many of Karma Genetics' most prized creations - And with its amazing resin production, beautiful frosty appearance, rich flavour profile, easy-going nature and high yield potential, it is easy to see why!
Tasting and smelling of lemon, pine and hashish, with an earthy Kush undercurrent, this is a delightful treat for the senses which was created by blending The White with Triple Kush.
This strain won many first place prizes in a number of contests, including: Zaragoza's 2015 fresh cup, Herbes del Dimoni 2015 Balearic Cup (Indoor category), 2015 Copa THC Valencia (Indoor category), 2014 Oilhunters Cup (Indica category) and the 2014 Elite Cup (Indica category).
Effects are strong, with a full-on stone and relaxing buzz enveloping body and mind. Great for treating stress, depression, insomnia and lack of appetite.