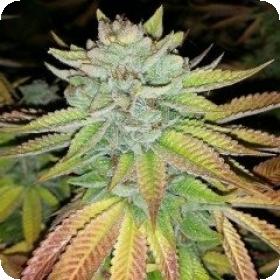 Tha Melon is an indica dominant hybrid with a massive resin production and a unique melon flavour.
This strain was created by crossing Biker Kush with Melon, and so the wonderful melon scent and flavour is combined with the amazing effect of Biker Kush.
The buds are large and dense, as well as being completely coated in a thick layer of resin. This makes the strain perfect for making resin extracts.
The effect is soft and relaxing which makes it ideal for those suffering from stress.
This strain is regular which means it will grow into a mix of male and female plants. This makes them ideal for breeders, who need the males for their pollen.
The split of male and female plants is roughly even, which is ideal for breeders when it comes time to pick the parents of the next crop.
Cannabis plants will pass on their best aspects to their young. So picking the two very best plants to act as the parents is extremely important and can improve the quality of the next crop.
This strain is also photo-period and will require a light cycle in order to flower.
This strain has a flowering time of 8 – 10 weeks and can be grown indoors or outdoors.