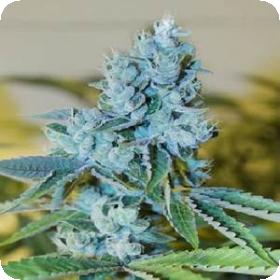 Headbanger is a cross of Sour Diesel and OG Kush, some really rather impressive genetic material. Sourdiesel is a perky Sativa strain which gets its name from the odour it gives off, it is pretty reminiscent of diesel.
The effects are swift, energetic, and dreamy making it a perfect strain for those who are suffering from pain, stress and depression.
Since it has a level of energy as well as pain killing effects it is perfect for medical patients who do not wish to be totally knocked out by their painkiller.
OG Kush is well known throughout the cannabis community as it is genetically present in almost every variety of West Coast cannabis.
This is another strain with happy and euphoric effects which are excellent for pain relief as well as migraines, ADHD, and stress disorders. The Sourdiesel mother has a serious effect on the taste of the plants, and they usually grow to be sourer than diesel.
The Kush male gives a tighter bud structure which results in a higher yield.
2nd Place in the Sativa category at the 2015 IC420 Growers Cup in Amsterdam. 1st Place overall at the 2015 Secret Cup (in Barcelona, Spain) Headbanger Shatter. 3rd Place in the Sativa Seed Company category at the 2013 High Times Cannabis Cup in Amsterdam.
This strain is sold in the form of regular seeds, regular seeds are still extremely popular amongst traditional growers and breeders everywhere.
Many believe that regular seeds have been squeezed out of the market by auto-flowering and feminised seeds, but Karma likes to ensure that they provide for all types of customer.
They are extremely independent, they have often been used by those who would wish to reintroduce cannabis into the wild. They can breed, grow, and thrive completely on their own as long as they are in the correct environment.
Regular seeds are most popular amongst old-school breeders because of their simplicity, uniformity, resilience, and the options that they provide.
Regular seeds grow into a roughly 50/50 split of male and female plants which means that the breeders can select the very best male and female to breed.
Thus, they can ensure that only the best genes are passed on to the offspring, meaning that through the generations the crops will only increase in quality and uniformity.
This strain has a growing time of 10 -12 weeks and, if grown outside, should be harvested in October - November. It can be grown indoors, outdoors, or in a greenhouse making a versatile strain that suits all sort of growers and breeders.
Please remember that the growing of cannabis plants and the cultivation of seeds is illegal in some countries - please check the laws of your country and don't be growing any plants if it is against your country's laws.
Genetics:
Sour Diesel IBL X Biker Kush