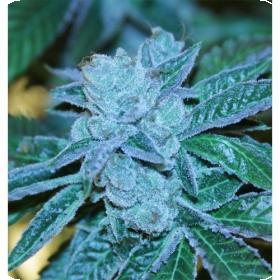 Biker Kush V2.0 Regular Seeds
This strain, Biker Kush V2.0, is a backcross to HA - OG and is a personal favourite of the breeders at Karma Genetics. HA - OG, otherwise known as Hell's Angel OG, is an Indica dominant hybrid which is composed of OG Kush and Blackberry genetics.
No one is 100% sure of its origin, since it was not terribly well documented, but there is a popular myth to the strain. It is rumoured that it was created by the very bike gang that it was named after, how true this story is thoroughly debatable.
The strain has an excellent relaxing effect which is ideal for those experiencing muscle pain, insomnia, and PTSD, as well as other stress related illnesses.
The strain has a citrusy taste and scent but with a slight sweetness behind it. Biker Kush V2.0 has a good yield and is, in many ways, very similar to the OG Kush plant. It is a delightful strain and its no wander that it is one of Karma Gentics favourite strains.
Biker Kush V2.0 is sold in the form of regular seeds which are still very popular amongst many old-school breeders and growers.
Regular seeds have been somewhat ignored in the popular market but Karma Genetics like to ensure that they cater to all types of breeders and growers.
Many prefer regular seeds for their resilience, those who have attempted to reintroduce cannabis into its natural habitat have always used regular seeds.
For breeders, they are certainly the most sensible option as they grow into a mix of male and female plants, the split is roughly 60% female and 40% male but this can differ from crop to crop.
This means that a breeder can select the best male and the best female as the parent plants giving them control over which genetics make it into the next crop.
Since cannabis seeds will usually only pass on their finest genes it is an excellent method of removing genetic weakness from a crop.
This strain is extremely versatile and can be grown indoors, outdoors, or in a greenhouse. This means that it is perfect for almost every type of grower. The growing time of this strain is 9 - 11 weeks and, if grown outside, should be harvested in September - October.
Please remember that the growing of cannabis plants and the cultivation of seeds is illegal in some countries - please check the laws of your country and don't be growing any plants if it is against your country's laws.