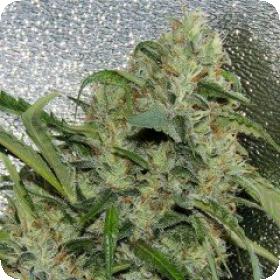 Amnesia OG is a prize winning strain from Karma Genetics. This strain was once known as Where's My Bike, both names give a pretty good idea of its power.
The terpene profile on this strain is pretty ridiculous as is the flowering time. This strain also gives pretty impressive yields of top quality buds that smell strongly of sweet bubble gum with hints of fruit and pepper in the flavour.
Amnesia OG produces a lot of resin and the effect is extremely cerebral and relaxing. This strain has been an Amsterdam favourite for years and years, always worth a try.
This is a regular strain, which means that it will grow into a combination of male and female plants whilst also needing a light cycle to flower. Regular seeds are super popular with old school growers and breeders.
They are especially good for breeders since having both genders makes breeding a whole lot easier.
The split is roughly 50/50 which means that the grower has plenty of choice when it comes to selecting the parent plants. These parents will dictate the quality of the next crop, a chance to wean out any unwanted traits.
This strain takes just 9 - 11 weeks to flower and can be grown indoors or outdoors.
Remember that the cultivation of cannabis seeds is illegal in some countries, please check the laws of your country before attempting to cultivate cannabis seeds.