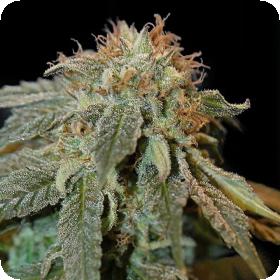 Haoma is a strain available from House of the Great Gardener which is widely recognised as one of their very best strains.
Haoma comes from two classic strains known as GG #1 and Purps. GG #1 is best known for its medicinal properties and is derived from the classic Afghani #1 strain. Afghani #1 comes from the region that produces the oldest and finest strains currently available.
It is used as the base of a number of famous strains on account of its impressive resin production, which is passed on genetically. GG #1 is one of House of the Great Gardener's favourite medicinal strains.
Purps, otherwise known as Mendocino Purps, comes from Mendocino County in Northern California.
It was one of the top 10 strains in the High Times Cannabis Cup Strains of the Year in 2007. At the start it was a clone only plant but it was not long before a stable cross was developed.
This means that the strain is now available to the lucky public. These strains combined creates Haoma, a stable and easy to grow strain which has only been gaining popularity. It is an early flowering plant with a delightfully fruity scent and flavour.
This strain can be purchased in its regular form or in its feminised form, these seeds are regular seeds. Regular seeds have been shrinking in popularity over the last few years since the creation of feminised and autoflowering seeds.
However, a number of companies realise that they need to supply to all types of growers and breeders, and so they still sell many of their finest strains in their regular form.
Regular seeds are primarily used by breeders as they grow into a roughly even split of male and female plants.
This means that the breeder has plenty of choice when it comes to selecting the parent plants.
Parent plants are extremely important as they will pass on their genes to the next crop. Selecting the very best male and female can improve the quality of the next crop and remove any genetic weaknesses from the plants.
Regular seeds are also used by those who would want to reintroduce cannabis into the wild. In the correct environment regular plants can breed and thrive completely on their own.
This strain has a flowering time of 7 - 8 weeks and can be grown indoors or outdoors.