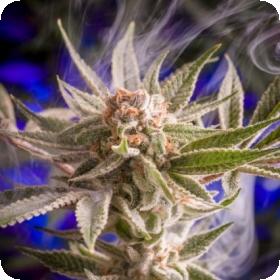 This strain is a combination of Mob Boss and Timewreck, a cross that was so successful Homegrown Natural Wonders had a fair bit of trouble selecting which phenotypes to keep. The strain gets its name from its huge, frosty buds which are so coated in resin they are basically white.
This strain combines all of that beautiful effect and resin production from Mob Boss and speeds the whole thing up with Timewreck. The effect is powerful, mellow and super relaxing but still has a little kick of energy behind it. Like you just had a big lunch then a small coffee, nice.
Frost Boss is a regular strain, which just means that it will grow into a combination of male and female plants whilst requiring a light cycle in order to flower. Usually these seeds are more popular with breeders than with growers. Breeders actually require the male plants in order to procure the pollen that they will use to create their next crop.
Since the split of males and females is about even the breeders has plenty of choice when it comes to selecting the parents for the next crop. This selection will dictate which genes are passed on to future plants, a good opportunity to get rid of some weaknesses.
This strain needs 55 - 65 days to flower and can be grown indoors or outdoors.
Remember that the cultivation of cannabis seeds is illegal in some countries, please check the laws of your country before attempting to cultivate cannabis seeds.