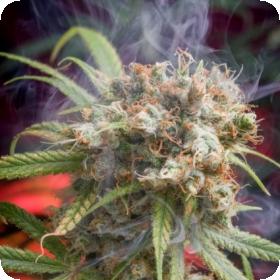 Canna-Wreck Regular Seeds
Canna-Wreck by Homegown Natural Wonders is a combination of Canna - Tsu and Timewreck. The breeders have ensured that the balance of CBD and THC is at a level that allows this strain to be used by medicinal users. The effect is mellow and clear headed which means that it can easily be used during the day, without normal tasks becoming extremely challenging.
The effect can change depending on when the strain is harvested. Sometimes, if harvested early, it will have a more energetic effect than if it was harvested later.
This is a regular strain, which means that it will grow into a combination of male and female plants. It is also photoperiod which simply means that it will require the cycle of the sun, or grow lights, in order to flower. Most breeders still prefer to use regular seeds because of their easy to grow nature.
A regular crop will usually be roughly 50% male and 50% female. This means that when the time comes to choose parent plants the breeder can select only the strongest of each gender to pass on their traits. A lot of old school growers also prefer regular seeds and they are often used in attempts to reintroduce cannabis into the wild.
This strain needs 49 - 63 days to flower and can be grown indoors or outdoors.
Remember that the cultivation of cannabis seeds is illegal in some countries, please check the laws of your country before attempting to cultivate cannabis seeds.