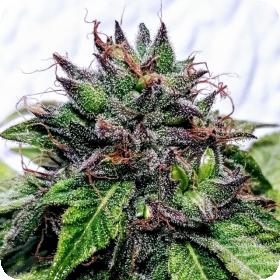 Special Needs Regular Seeds
There are four essential parts to this beautiful creation the Bubba Kush, Stone Mountain back-cross Tre Star Dawg, Bubba13 and the infamous Hash Plant cross from Topdawg.
And the Bubba is just so famous so it's one we've taken our time with to get right without affecting its quality as a med, so it's been essential to back cross before moving forward to solidify the traits.
Already so well-received the Stone Mountain/Bubba side combining with our Guide Dawg into a whole new lease of life adding depth and much better size to the Bubba's potential.
She's a true grower's powerhouse now but still retaining all the Bubba's taste on a whole, but boosted beautifully by the Stardawgs reach, this strain is now our new super strain we've kept for ourselves over the last year and it's truly stood the test of time.
Very difficult to keep in the jar we kept reaching for this one because of its effects and so gave it a name to match, she is extremely special, and she sure is a vast medicinal treat covering from eating disorders, sleeping issues, muscle spasms, headaches and pains, the list goes on.
A very special new addition to our catalogue and one we very proud of but beware she is not for the novices amongst us as her profile now is rather strong for the average consumer, an absolute joy to work with she's now a lot more dependable but please enjoy responsibly!