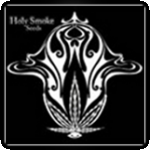 Holy Smoke Seeds owner and breeder Nick has been exposed to cannabis since he was a young child in Africa. He has worked with the many different landraces, logging and quantising their potential and when he came to Europe, he delved into the variety of indica's, separating those with favourable traits. It's no wonder Holy Smoke Seeds sets its standards so high!
Holy Smoke Seeds strains are always so well received with great results. They offer both regular and female cannabis seeds from a very select pool of genetics. Offering some of the finest genetics to some from a blend of Africa and European origins, Holy SmokeSeeds focus on profit before product. It's this dedication that is fast securing Holy Smoke Seeds place as a very select seedbank offering only premium cannabis genetics.
These are the genetics that will be talked about for many years to come. If you haven't had your hands on their cannabis seeds yet, then you're missing out.
Please remember that the growing of cannabis plants and the cultivation of seeds is illegal in some countries - please check the laws of your country and don't be growing any plants if it is against your country's laws.