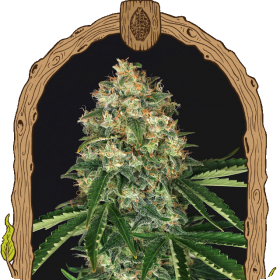 Mango Cream Regular Seeds
This Indica dominant strain is a combination of Somango, by Soma, and an F5 cross between Blueberry and New York City Diesel. It looks just like a little Christmas tree and produces a large yield of dense, resin covered buds. Its effect is powerful but relaxing, perfect for those who just need to relax after a long day.
It is also a great medicinal strain for those who are suffering from insomnia. It has a delightful combined scent ripe fruit and citrus with a delicate hint of skunk.
Regular seeds may not be as popular as they once were, but they very much still have a place in the breeding world. Regular seeds will grow into an even split of males and females. This means that the breeder has plenty of choice when it comes to selecting the parent plants.
Choosing the very best male and female to act as parents means that the next generation will have the best possible genes. A lot of old school growers also prefer to use regular seeds.
This strain will grow well indoors, outdoors or in a greenhouse and will need 56 days to flower.
Remember that the cultivation of cannabis seeds is illegal in some countries, please check the laws of your country before attempting to cultivate cannabis seeds.
Genetics:
Somango x (Blueberry x New York City Diesel) F5