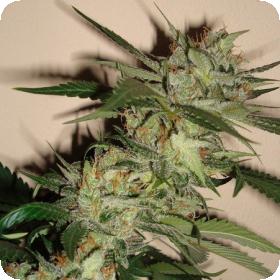 Sleestack x Skunk Regular Seeds
With genetics straight out of Amsterdam, DNA Genetics proudly offers this incredible mostly-sativa strain in seed form for the first time. Sleestack x Skunk (also known as SleeSkunk) is not only an amazing sativa smoke, it is also touted by many as one of the world's best hash-producers.
The flavour is very typically Skunk with notes of lemon and it has the dank, sour aroma to match. This one has tonnes of bag appeal and has a look that is every bit as appealing as the aroma and flavour.
The smell of this strain when lit is very thick and tends to linger in the room when smoking it indoors. The smell of the smoke is still nowhere near as permeating as that of a fully-grown plant, though.
This is a real consideration for indoor growers - be certain that the space is clean, dry, and has good air filtration. Average flower time is between 8 and 9 weeks indoors.
This strain grows well in any indoor environment from a basic grow room to a large commercial greenhouse. The plants take on a tight Christmas tree shape, and they respond well to any growing method, and they thrive under typical light cycles and with basic cannabis nutrients.
A good pH-balanced, nitrogen rich substrate is a good recipe for a successful and abundant harvest of excellent, dank weed.
SleeSkunk is also a great medical strain that has been used to effectively treat conditions like migraine, anxiety, and depression along with a host of muscle and joint aliments.
New to growing cannabis? This strain is a great place to start. It has the dual benefit of being very easy to grow with excellent yields as well as having very adaptable genetics that allow for much success when growing both indoors and out.